25.08.2023 Tempelhof airfield
Start / Finish: Tempelhofer Flugfeld runway
Route: 25.08.2023 Tempelhof Airfield
Course length: 1 Rd = 5,75 km
13:00 U13w                     Circuit 3 Rd = 17,3 km
13:05 U13m                     Circuit 3 Rd = 17,3 km
13:50 U15w                     Circuit 5 Rd = 28.8 km
15:00 U15m                     Circuit 5 Rd = 28.8 km
U13 m/f
Acceptance 2 sprint scores 5, 3, 2, 1 points each,
After 1 and 2 laps driven
Add. bonus sprint with 3, 2 and 1 seconds after 2 laps
U15 m/f
Acceptance 3 sprint scores 5, 3, 2, 1 points each,
after 1, 2 and 4 laps driven
Add. bonus sprint with 3, 2 and 1 seconds after 3 laps
Time credits at the finish: 6, 4, 2 seconds, points for sprint ranking: 10-7-5-3-2-1
Stage 1b) Team time trial

Start / Finish: Tempelhofer Flugfeld runway
Route: 25.08.2023 Tempelhof Airfield
Course length: 1 Rd = 5,75 km
16:15 U13m/w                 MZF 2 Rd = 11,5 km started in 3 blocks
17:25 U15m                     MZF 2 Rd = 11,5 km started in 2 blocks
18:05 U15w                     MZF 2 Rd = 11,5 km started in 3 blocks
The time of the third rider will be counted as the time ridden by the team.
For the individual classification, the scored team time will be included in the rider's time. Riders with more than 30 sec behind their team time will get their individual time for the overall ranking.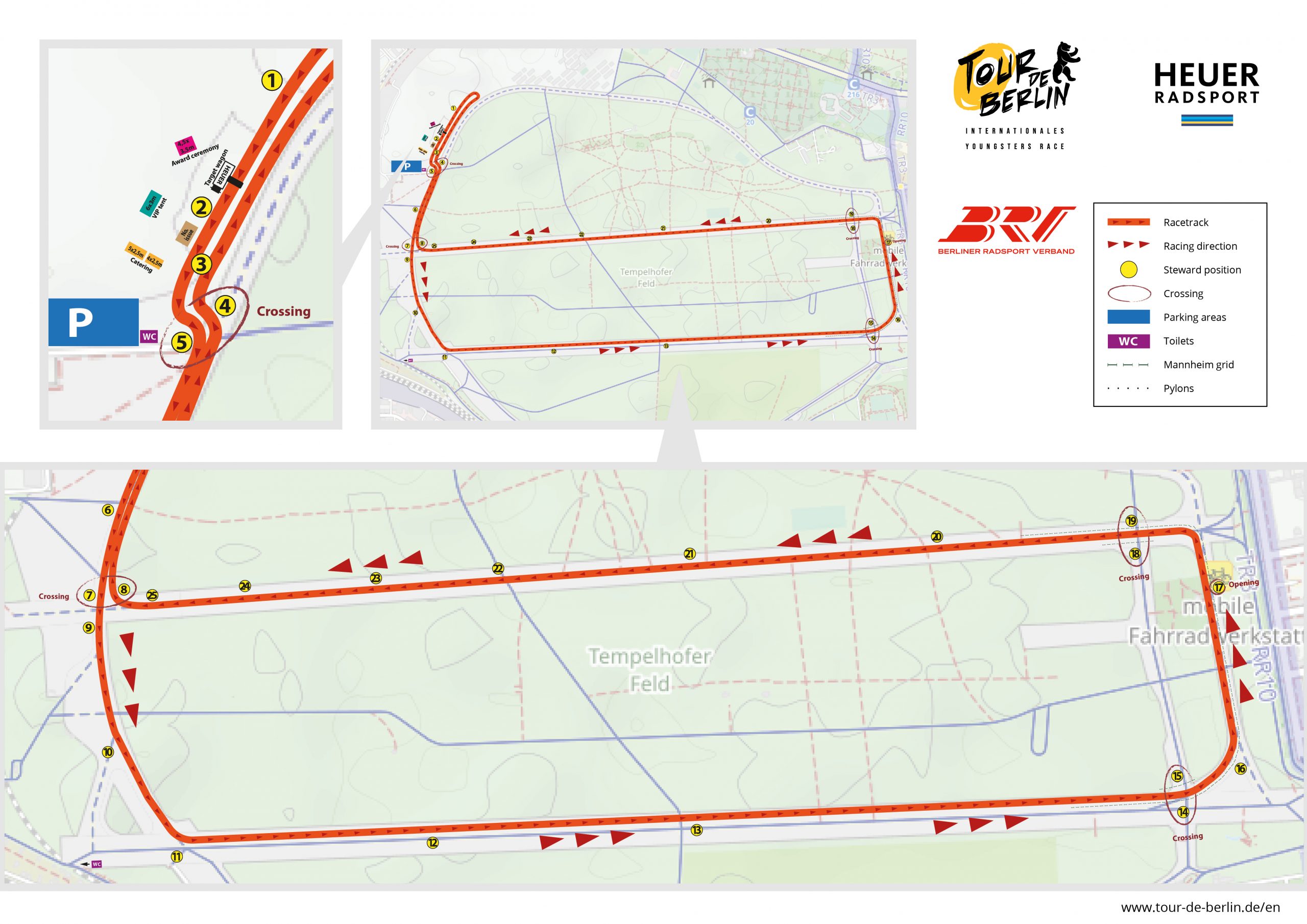 Award ceremony for the first three riders in each class. Leading jerseys in all classifications will be awarded according to the classification overview.
Directions:
The P2 parking lot next to the airfield is reserved for athletes. No motor vehicles are allowed on the grounds of Tempelhofer Flugfeld.
Please use the entrance to the Tempelhofer Flugfeld site via Werner-Loebermann Weg.
Here is the link for the parking lot on Google Maps - Parking Tempelhof Airfield